Last Update: 12-08-2023 15:20
Velocipede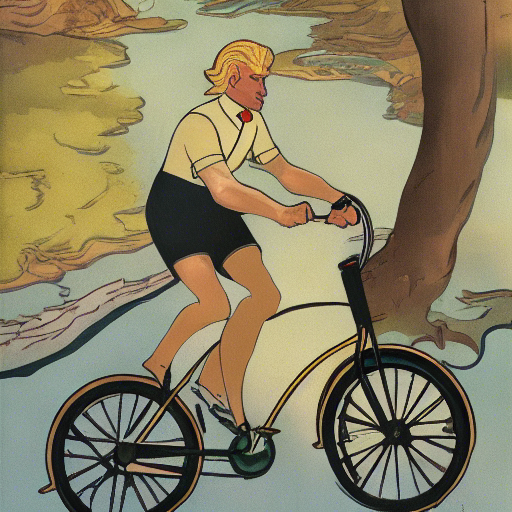 U.S. Art Nouveau style man riding bicycle along river trail
Blessed to live a few hundred yards from a paved river trail that connects to several other trails.
After getting my leg run over by that car, trails are preferred.
Slow in speed, but out several times a week as weather permits.
2 hours is currently my sweet spot.
The only current goal is to exceed the monthly average from earlier years.
No fancy (expensive) bicycle or clothing.
Getting in the zone with good tunes is preferred over riding with others who like to chat.
Monthly digital tracking since 9/2011
| | Avg Pre 2023 | 2023 | 2022 | 2021 | 2020 | 2019 | 2018 | 2017 | 2016 | 2015 | 2014 | 2013 | 2012 | 2011 |
| --- | --- | --- | --- | --- | --- | --- | --- | --- | --- | --- | --- | --- | --- | --- |
| Year Total | 2,234.27 | 2,586.80 | 2,324.30 | ↑3,004.40 | 2,669.50 | 2,060.60 | 1,201.80 | 1,731.60 | 319.90 | 2,003.66 | 2,135.93 | 2,113.09 | 1,393.50 | 653.05 |
| January | 47.70 | 0.00 | 0.00 | 0.00 | ↑47.70 | 0.00 | 0.00 | 0.00 | 0.00 | 0.00 | 0.00 | 0.00 | 0.00 | 0.00 |
| February | 10.20 | 0.00 | 0.00 | 0.00 | 9.90 | 0.00 | 0.00 | ↑10.50 | 0.00 | 0.00 | 0.00 | 0.00 | 0.00 | 0.00 |
| March | 109.55 | 0.00 | 0.00 | ↑262.00 | 64.50 | 52.10 | 0.00 | 12.30 | 165.70 | 159.78 | 57.11 | 26.58 | 185.88 | 0.00 |
| April | 162.81 | ↑253.30 | 0.00 | 200.50 | 137.60 | 76.50 | 118.00 | 249.70 | 142.60 | 193.89 | 180.24 | 185.37 | 143.68 | 0.00 |
| May | 295.05 | ↑467.30 | 281.00 | 428.10 | 326.50 | 180.50 | 280.60 | 342.50 | 10.00 | 318.42 | 290.61 | 316.58 | 185.69 | 0.00 |
| June | 399.92 | 3283.20 | 407.80 | ↑608.90 | 576.70 | 325.80 | 277.70 | 383.90 | 0.00 | 335.82 | 374.42 | 344.63 | 363.54 | 0.00 |
| July | 326.16 | 424.60 | 333.90 | ↑512.50 | 437.00 | 301.40 | 196.90 | 267.90 | 0.00 | 299.08 | 472.89 | 206.16 | 233.84 | 0.00 |
| August | 285.31 | 294.80 | ↑503.30 | 405.10 | 378.00 | 401.90 | 247.80 | 55.40 | 0.00 | 350.98 | 302.64 | 348.68 | 81.41 | 263.20 |
| September | 252.64 | 295.60 | ↑427.40 | 291.80 | 200.70 | 264.60 | 80.80 | 366.20 | 0.00 | 108.74 | 276.83 | 325.62 | 184.19 | 252.17 |
| October | 166.52 | ↑282.50 | 190.50 | 76.30 | 202.80 | 171.40 | 0.00 | 43.20 | 0.00 | 139.45 | 181.19 | 260.03 | 0.00 | 233.80 |
| November | 102.43 | 223.40 | 180.40 | 116.70 | ↑241.40 | 80.80 | 0.00 | 0.00 | 111.60 | 97.50 | 0.00 | 99.44 | 2.46 | 91.59 |
| December | 75.98 | 62.10 | 0.00 | 102.50 | 46.70 | ↑205.60 | 0.00 | 0.00 | 0.00 | 0.00 | 0.00 | 0.00 | 12.81 | 12.29 |
↑Highest ever mileage for that period
1Google abandoned the MyTracks app on 4/30/16, so no digital data until 11/16 when I purchased a Garmin Fenix watch
2Started digital tracking 09/11 - Riding for years before that
3Inactive for over 2 weeks - thrown out of normal June peak groove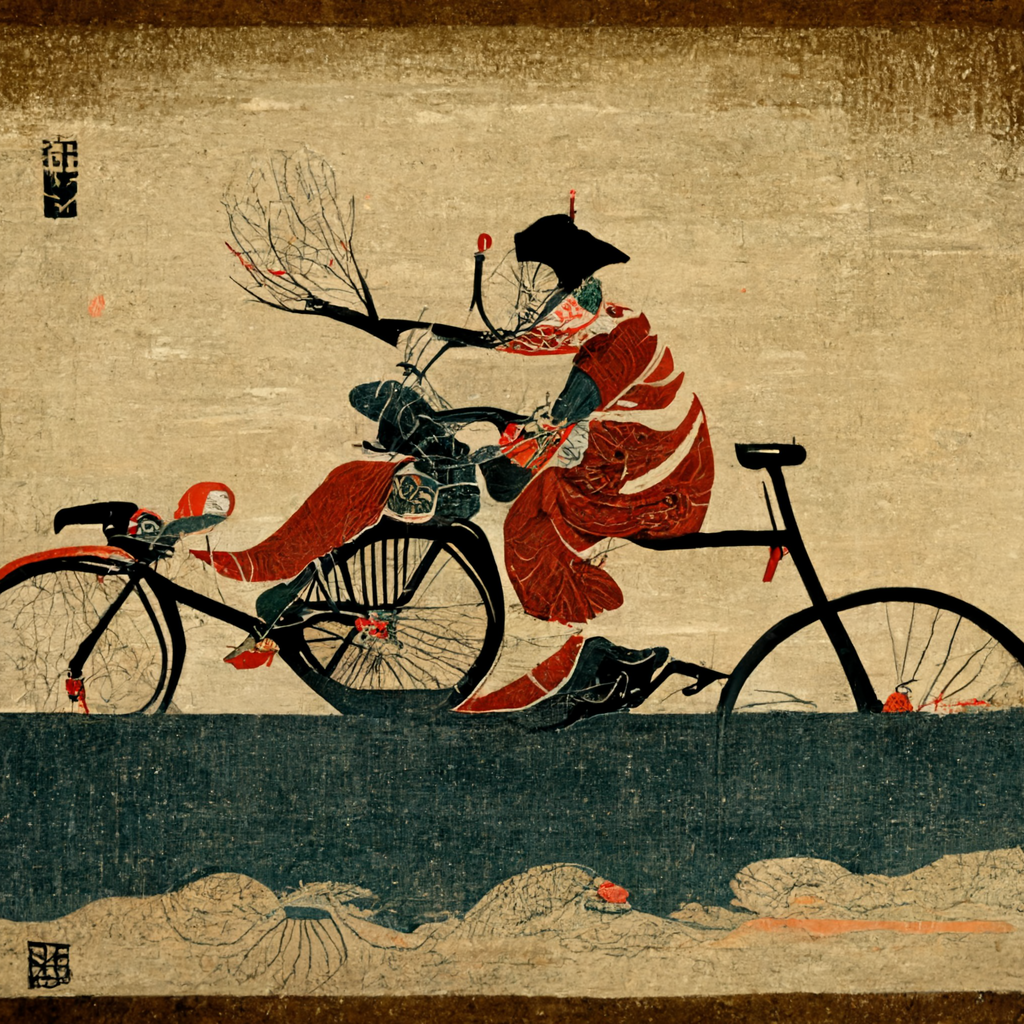 ukiyo-e style bicycle rider
---